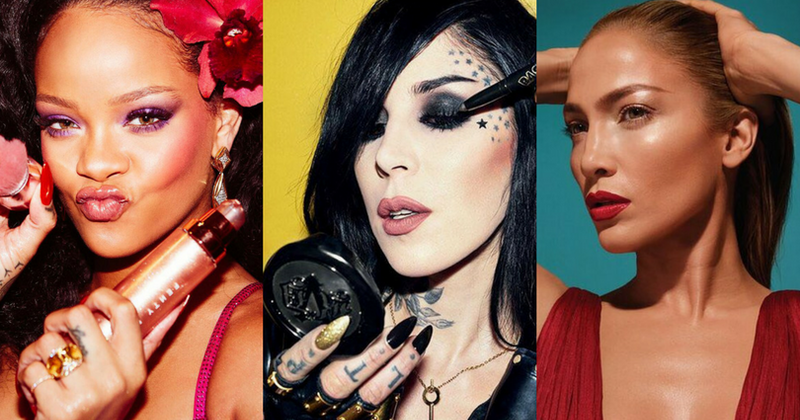 Jennifer Lopez's new beauty line drops in on Thursday — this will definitely change the bronzer game as we know it. Lopez, in collaboration with Poland-based Inglot Cosmetics, is launching a 70-piece big collection of makeup that will feature eye shadows, bronzers, lipsticks, blushes, mascaras, and powders.
The palette ranges from nude shades, gold and shimmer and JLo feels that she's letting everyone in on her beauty secrets. "It is something I have been wanting to do for a very long time. A makeup line seemed like a natural progression since people are always asking about the products I use and how I get the glow to my skin," she told WWD after the news got out.
Gone are the days when starlets only stuck to films — now they build business empires based on their successful careers and influence. And what would be the best industry to venture in? The beauty industry, of course! Inspiring millions to get their iconic looks at the fraction of a price. Stars like Rihanna, Jennifer Lopez, Kylie Jenner, Kat Von D, Drew Barrymore and Jessica Alba, among others, are bringing in their own take on beauty and making millions while they are at it.
Come to think of it, it all started with the advent of the social media boom — their reach was at its peak and every photo gave their millions of followers the opportunity to look just like them on a day to day basis. It wasn't like before — they could now see how they look (which is great, always) even when they weren't on the red carpet and were doing mundane everyday things such as walking their dog.
The peek into their life gave them a sense of relatability — and like a bee in spring, their hero worshipping flew them straight onto the products these celebrities endorsed. As endorsements started taking centerstage, some celebrities perhaps thought why not encash on this craze to imitate their every move and do what they do really well? Look beautiful and make some money!
The celebrity beauty industry today is no joke — it rakes in billions every day. Some of them are even sold out in seconds. Why do you think that rarely happened with traditional beauty houses? The simple answer is they didn't have that influence and neither did they come backed by the so-called standard of beauty.
Some celebrities took the opportunity to create a wave of inclusiveness in the makeup world. Fenty Beauty, after its massive launch in September last year, showed us what the power of influence can really do.
Her signature product for the first launch, the Fenty Pro Filt'R Foundation, dropped in 40 shades that promised to match every skin color out there — a claim made true by the product itself, of course, but also padded by RiRi's persona of an outspoken, fearless female who has always challenged the status quo. Be it with her bold choices in fashion or with her crazy hair and makeup, Rihanna always made a point that others were too afraid to talk about.
The first launch was sold out in a matter of minutes and within one month of release, Fenty made $72 million. Departmental stores were selling one foundation every minute and one Fenty lipstick every three minutes. The line landed on Time magazine's list of the 25 best inventions of 2017 standing on par with inventions like Nasa's Martian spacecraft InSight, Apple's iPhone X, Nike's Pro-Hijab, and the Tesla Model 3.
Rihanna, 30, is now worth $245 million and it is a no-brainer that a huge part of it comes from her beauty line. A survey conducted by Slice found that her fans spent an average of $471 a year each on Fenty's makeup products. Her Instagram following alone is 69.1 million. You do the math.
Jessica Alba, another Hollywood A-lister, tapped into the eco-friendly, toxin-free market with the launch of Honest Company in 2012. The products are free of parabens and phthalates, much like the life she portrays on her social media.
She's the hardworking mum, who uses her own products on her own kids. While this may very much be true, one cannot oversee the similarities in the image she portrays on social media and what her company stands for. To be honest, this feels like making space for something that no one knew they couldn't live without — a sign of a good marketer.
Her products have received raving reviews from beauty critics and even went on to get the Allure Best of Beauty Award for its Healing Balm. She tends to be super relatable, that lets her connect with her audience which includes a lot of mothers like herself. It was valued at $1.7 billion as of
Drew Barrymore, unlike her industry counterparts, went with a range for the commoners. Called Flower, her beauty line is a Walmart exclusive. It ranges from lip glosses, foundations, lipsticks, eyeshadow palettes and makeup brushes, you name it — at an affordable range. Her aim is to bring about the union of affordability with quality, kinda like her persona in general.
Drew hasn't been seen in a blockbuster for quite some time now and she seems to have moved on to television in a big way with Netflix's 'Santa Clarita Diet' that released recently. In her earlier films, she has sold us the girl next door image and she's doing the same with Flower and it's been working really well — she made $50 million in sales last year.
Kat Von D is another example of a celebrity who built a beauty empire based on her cult tattoo following. She's definitely come far from just being a goth looking tattoo artist at the famous High Voltage Tattoo in LA – she's also a huge beauty influencer now. Kat launched her beauty line, named after herself, in collaboration with Sephora in 2016.
Everything about the line screams Kat — the packaging, the colors and the looks created. Imagine a time Kat wasn't famous, would they be called so chased after? Quite like Kylie Jenner and her lip kit empire, Kat spun her business based on her own looks. Today, Kat is worth $12 million and she continues to grow — a massive part of which is her makeup empire.
Miranda Kerr's Kora Organics is another example of one such crossover of celebrities into the beauty industry. Former Victoria Secret model Kerr was always known for her goddess-like skin. Her line, Kora Organics, promises you the same thing.
"There are so many chemicals in skin care these days that I decided to make my own line," said Kerr talking about the line back when it launched in 2009, "These products help detoxify and recharge your skin with antioxidants, like noni and rose-hip oil, without any of the harmful ingredients."
The jury is still out on whether these products are worth every penny because some of them ask for a lot of them. But, one thing is for certain — going forward, we may see a world that only has lines born out of celebrity collaborations, killing any chance of a smaller makeup artist to make it massive, if they do, without a celebrity crutch. But that's a tale for another day.