Now that Coachella is over, it's time to look at the trends that the festival has created this year. As every other year, Coachella 2018 saw its share of outrageous, fun and the swanky fashion. From celebrities rocking the 60s and its color and glitter in all its glory, this year also saw the birth of comfortable music festival fashion, proving that our parents knew what they were doing all along.
From Rihanna's 60s' flip hair and micro sunnies, this year also brought back the fringes. Here's a look at the fashion trends that Coachella set so that you can relive the desert rocker tribe vibe all year until it comes back around in 2019!
1. Everything 60s
RiRi, the goddess of bold fashion rocked a 60s-inspired look at the festival. Flips, buckles, leather, bright pops of eyeshadow, lots of bling, micro sunnies and a lot of sass were all a part of recreating the 60s vibe.
Bella Thorne showed us how to do the 60s, channeling its wild side. Her wardrobe has always been incredibly daring and this time was no different. A red sheer, spiky jumpsuit paired with glitter and tiara, the outfit screamed Coachella!
You can try your own 60s style with a pop of neon on top and a pair of flared jeans. Add sunnies and large hoops to the look to make your own Coachella 2018 inspired style. Stick to cute, quirky accessories and bling — you're good to go.
2. Bra Tops
Bra tops were literally everywhere this year. Bella Hadid sported one, Gigi Hadid sported one and so did everyone else. Bra tops are just your regular bralettes which give you support and looks super cute at the same time. Victoria's Secret model Elsa Hosk was seen rocking her own racy version at Chella.
This trend has been around for a while, now thanks to Coachella, it will definitely be an in thing this summer. Rochelle Humes paired with a fun twist — polka dots. To make this trend your own, pair it with some cut off shorts, or even a sheer top and you're Coachella ready and good to go. Take your inspo from model Winnie Harlow.
3. Casual Sundays
Coachella saw an interesting mix of uber skimpy outfits as well as really comfy, casuals which would remind you of a lazy day at home on a Sunday. Except, this wasn't lazy, but packed with amazingly mind-numbing music. Think mom jeans, muted colors, flowy fabrics, and hats. Gigi Hadid sported a pair of mom jeans and a crop top for the last bit of Coachella, making us wonder why we had never stolen from our parents' wardrobes!
4. Stick-on glitter
Glitter, this year, was bigger than ever at Coachella with people using them not only to add a hint of sparkle to their bodies but also their faces! Stick-on glitter was extremely popular, with festival goers using them to add that extra oomph their look.
This year, it was incorporated into makeup – with the color palette being along the lines of the skin on crystals. You can incorporate this stick on glitter into your summer outfits, starting on your arms as an armlet or your chest as a longline necklace for starters. After you get a hang of things and see how much you want to experiment, go crazy!
5. Fringe
Cowboy hats, 'Westworld' style boots, fringes on pants, slings, and jackets made a massive comeback at Coachella this year.
Suede, combat, and leather boots were paired with lace, mesh and more leather – it was all about layering.
The easiest way to don this trend would be to pair a suede fringed satchel with your daily look or a classic combination of blue jeans and a white shirt.
6. Belts aka fanny packs
Who doesn't love a good fanny pack? And since they have decided to make a comeback, I've just been ecstatic about their return! Coachella saw its fair share of fanny packs this year, some disguised as very adorable yet functional belts.
Even the performers were seen with one — after all, they are a festival staple. Ariana Grande was seen rocking a fanny pack that had a fanny pack of its own, with a small version of the bigger back hanging from her waist.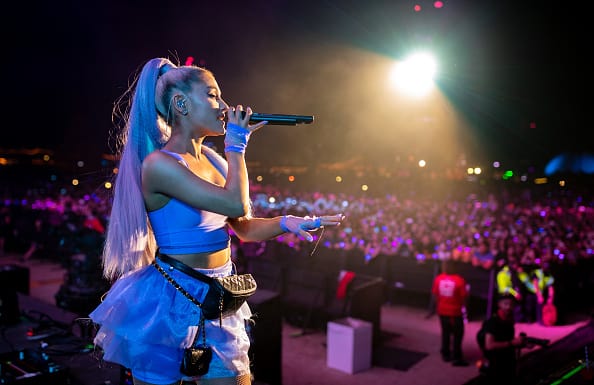 7. Crisp in white
What is better in summer than crispy white outfits? White was seen in crochets, chiffon, and cotton — perhaps a choice because of the hot and sweaty desert climate. All white combinations were very popular this year, with white co-ords stealing the show.
Whites are super easy to pair with anything — but to get a Coachella vibe, combine it with a nice hat, a cute sling and a pair of designer sunnies to get a look inspired by supermodel Emily Ratajkowski.
8.  Cheetah
Cheetah print was so on this year — Charlie XCX was spotted in a cheetah tankini and Nicki Minaj wore her infamous pantsuit combo.
Nevertheless, it is a classic trend and if you can get it right, nothing like it. Sadly for Nicki Minaj, it didn't happen but don't be discouraged because from the looks of it, cheetah is coming back prowling into the fashion scene and you really shouldn't miss out.